Press
October, 2017
Guest Commentary: Global hospital budgets are a hit in Maryland; more states should consider the practice – (Modern Healthcare)
The year was 2013, and Maryland's unique rate-setting system for hospitals was at a crossroads. To succeed, the leaders of Maryland hospitals chose a path not previously taken: all-payer global hospital budgeting. No longer would there be an imperative to keep inpatient volumes high. Pivoting away from fee-for-service reimbursement, each hospital agreed to receive a prospectively set, all-payer global budget each year. By July 2014, these new arrangements involved more than 98% of the state's hospital revenue. Three years later, Maryland hospitals are still standing—in fact, margins are up.
October, 2017
Health Systems Turn to Predictive Technology to Improve Retention Rates – (Employee Benefit News)
The American healthcare system faces any number of challenges, from securing medical reimbursements from the government to keeping hackers out of its medical records. But hospitals face another big challenge that is significantly affecting their operations: staff turnover.  Up to half of healthcare workers leave their jobs each year, says Jeffrey A. Sachs, principal of the Sachs Policy Group, a New York City-based boutique consulting firm that advises healthcare leaders on policy, trends and business strategy.
May, 2017
HHS Expands Direct Obamacare Enrollment: Will Insurers Respond? – (Bloomberg BNA)
People signing up for health insurance next year can buy subsidized insurance without having to visit HealthCare.gov, the federal health insurance marketplace, the CMS announced recently. The move could be an early sign the Trump administration will take a backseat to the private sector in getting Americans to sign up for health insurance, policy analysts told me recently. If the federal government isn't active about encouraging enrollment, analysts warn, fewer people will purchase insurance.
May, 2017
Disinfect Your Smartphone With CleanSlate UV: CEO Taylor Mann Explains How – (Clinician Today)
CleanSlate UV is a box-shaped machine that uses UV light to sanitize a mobile device in 30 seconds. This gadget is helping reduce the spread of bacteria found on smartphones and tablets brought into hospitals, and it's a green solution because it reduces waste by eliminating the use of chemical wipes among staff. We sat down with CleanSlate UV CEO and co-founder Taylor Mann and healthcare tech adviser Jeff Sachs to learn more about this revolutionary device and how it could reduce the spread of infections at healthcare facilities.
March, 2017
How the American Health Care Act Could Affect Digital Health – (Forbes)
In the wake of a newly elected president and a Republican congressional majority, the future of health policy and technological innovation is far from clear. When the Affordable Care Act (ACA) was passed in 2010, it not only extended health insurance coverage to 200 million Americans but also paved the way for a 600% increase in digital health funding by introducing new market forces and value-based incentives into the industry.
March, 2017
CleanSlate UV Sanitizer for Mobile Devices in Healthcare: An Interview – (medGadget)
The average cell phone is dirtier than you might think. It has been estimated that a typical mobile phone could be up to six times dirtier than a public toilet and as many as one in four handsets could carry pathogenic bacteria. Wiping every device with anti-bacterial wipes is not always practical and the chemical components can damage electronics. To help with this problem, CleanSlate, a company out of Toronto, Canada, has developed the CleanSlate UV Sanitizer, a rapid sanitization solution that can effectively reduce the level of contamination on mobile devices without the need for user training. Medgadget asked CleanSlate CEO Taylor Mann and CleanSlate advisor and Sachs Policy group CEO Jeff Sachs some questions about the device.
December, 2016
Medicaid, Meet Indiana  – (The Health Care Blog)
The Vice President-elect and proposed head of CMS are closely tied to a Medicaid reform called the Healthy Indiana Plan. Seema Verma, the proposed CMS Administrator, is credited with being the architect of Healthy Indiana, and Mike Pence, the Vice President-elect, presents Healthy Indiana as one of the signature achievements of his term as governor of that state. It is too early to tell if the program will be successful, but since Republicans have swept all national offices in the last election, we can reasonably conclude that the future of Medicaid in America is going to look more like Indiana, and so we should take a look at what that means.
September, 2016
FM Q&A: Plant Hygiene and the CleanSlate UV Sanitizer with Taylor Mann and Jeffrey Sachs  – (Food Manufacturing magazine)
CleanSlate UV invented a box-shaped device that uses UV light to sanitize a cellphone in 30 seconds. The device was intended for hospitals – to keep germ-ridden smartphones and tablets out of clean rooms and intensive care areas, but the company has discovered a major need for this device elsewhere – inside food processing plants. In this Food Manufacturing magazine Q&A, Dr. Jeffrey Sachs and Taylor Mann, CEO and Co-Founder of CleanSlate UV, answer some questions about the CleanSlate UV Sanitizer and how it's serving a critical need in the food processing industry.
August, 2016
Risk Adjustment Gone Wrong – (The Health Care Blog)
The Affordable Care Act was intended to usher in a new era of competition and choice in health insurance, and at first it succeeded. But increasingly, provisions in the law are undermining competition and wiping out start-up after start-up. If something isn't done soon, the vast majority of new insurers formed in the wake of the ACA will fail, and many old-line insurers that took the opportunity to expand and compete in the new markets will leave. It's a classic story of unintended consequences and the difficulties of regulation.
July, 2016
Pokemon Go: A Look into the Future of Health and Wellness Apps – (The Health Care Blog)
On July 16, 2016, Pokemon Go had been in release for 10 days and it was already more popular than Twitter and Tinder on mobile devices. Those with the app spent more time on it than on Facebook. It became the most downloaded mobile game in U.S. history. So what does this have to do with health? Pokemon Go is a game, but it is also a health and wellness app. And it's making people move, a lot. Because unlike the thousands of "gamified" health and wellness apps created over the last decade, Pokemon Go is a healthified game.
April, 2016
9 Innovative Healthcare Services Firms in NY – (Becker's Hospital Review)
Many innovative healthcare services companies exist to help those of us who run businesses understand changing policies, develop and execute strategies, create new lines of business, and transform underperforming ones. In today's fast-paced world, we can't survive without these kinds of experts. Below we highlight some of the most innovative healthcare services firms in New York. While some of these firms have national and international reach, we only considered firms that are actively at work and have a presence in New York.
October, 2015
Picture of Good Health – (Manhattan Magazine)
Jeffrey Sachs, chairman of Junto Health, helps companies navigate the digital revolution happening in health care today. Here's how he gets it done…Rather than waiting for tech startups to knock on their doors, the members of Junto Health strategically search out companies that can answer specific needs. "We go out and look for emerging technology companies that can complement the expertise that the larger entities bring to the table, " Sachs says. He calls it "a phase change" in health care.
August, 2015
Technology Driving Healthcare Revolution, Not Policy – (HealthDataManagement)
Jeffrey A. Sachs has worked on various high-level health initiatives over the years, from advising former New York governors Hugh Carey and Mario Cuomo to providing guidance on California's Medicaid waiver in 2010. Yet Sachs, founder of Sachs Policy Group, a New York City-based boutique consultancy, has a career history far-flung from the buttoned-down and cautious health policy wonk might expect him to be – and he makes no bones in discounting the healthcare industry's preoccupation on policy minutiae in turbulent times.
July, 2015
Blueprint Spinoff Brings Payer, Pharma, Providers Together to Solve Healthcare Problems – (MobiHealthNews)
There are a lot of digital health accelerators designed to help startups catch the eye of big pilot partners, but what about the other way around? Last December NYC-based tech accelerator Blueprint Health spun off the Blueprint Health Collective, now renamed Junto Health, to help stakeholders like payers, pharma companies, and hospital systems, find and curate innovative solutions to their problems by working with the right startups — or by developing innovations together in-house.
July, 2015
Blueprint Health Spinoff Gets a New Name, Partnership – (MedCityNews)
Junto Health, a Blueprint Health spinoff, has partnered with a healthcare policy group as it approaches its first anniversary. The idea behind the partnership with Sachs Policy Group is to provide Junto members — providers, payers, pharma and technology companies — with a better overview of healthcare trends resulting from reforms happening at the state and federal level.
July, 2015
Blueprint Health, Sachs Policy Group Launch Partnership – (CrainsNewYork)
http://www.crainsnewyork.com/article/20150728/PULSE/150729868/blueprint-health-sachs-group-launch-partnership – Subscribers Only
The Sachs Policy Group is playing matchmaker among local providers, insurers, drug makers and other entities. The health care policy consulting firm announced it has created a partnership with accelerator Blueprint Health to create Junto Health. The Manhattan company is a successor to the Blueprint Health Collective, which launched in late 2014.
July, 2015
Junto Health Announces a Unique Partnership with Sachs Policy Group – (PR Newswire)
Junto Health, a company that helps major health care organizations and startups share information and develop new technology solutions, today announced the launch of a partnership with The Sachs Policy Group (SPG), a leader in health care policy consulting. Working together with SPG, Junto Health's members will now engage in a collaborative innovation process while, at the same time, they are also guided through the latest trends in public policy, health care finance and the delivery of health care services.
January, 2014
Multibriefs Exclusive, "Attracting young adults to insurance exchanges proves difficult"
After a slow and rocky start, the state and federal health insurance exchanges seem to finally be taking off. By the end of December, enrollment surpassed the 3 million mark for state and federal marketplaces combined.
Events & Speaking Engagements
November, 2016
Dr. Jeffrey A. Sachs Speaks at the CHCANYS 2016 Statewide Conference & Clinical Forum
Dr. Jeffrey Sachs recently led a general session at the Community Health Care Association of New York State's (CHCANYS) Statewide Conference & Clinical Forum in Tarrytown, New York where he spoke about the future of Federally Qualified Health Centers (FQHCs) and the opportunities and challenges presented to the health centers in the evolving healthcare landscape. The entire article can be found here.
October, 2016
Dr. Jeffrey A. Sachs Serves as Judge in the 2016 French Tech Shark Tank Competition
Dr. Jeffrey Sachs joined a panel of judges at the 2016 French Tech Shark Tank Competition, an event designed to identify new leaders in cutting-edge medical advances in France's health technology sector. The competition, held at the Parker Meridian Hotel in New York on October 26th, convened more than 160 venture capitalist investors, start-up thought leaders and executives from the medtech, biotech and digital health industries. The event was hosted by the MedStartUp Program in partnership with La French Tech, a publicly funded initiative to promote French startups under a single brand in France. The entire article can be found here.
October, 2016
2016 MHANYS Conference: The Time for Change is Now
On October 27th, SPG's Bruce Feig moderated a panel at the 2016 MHANYS Conference, The Time for Change is Now, in Albany, New York. The topic was Advancing Integrated Health Care for Individuals with Mental Health and Substance Use Issues under Managed Care. The panel was comprised of national and state experts who shared their expertise and experience to demonstrate how better integration between behavioral health and primary care impacts the lives of those served. The panelists also discussed various approaches of integrated care delivery and offered recommendations that impact both policy and practice. More information regarding the event can be found here.

October, 2016
The Annual Policy Forum for The NY State Coalition for Children's Behavioral Health
On October 19th, SPG's Bruce Feig moderated a panel on Managed Care for Children's Behavioral Health at the Annual Policy Forum for NY State Coalition for Children's Behavioral Health, in Saratoga, New York. The purpose of the event was to articulate and assess the state of managed care readiness for children's behavioral services and to discuss the development of a value-based approach to children's care. The panel included leaders from community based organizations serving children and from insurance organizations. More information regarding the event can be found here.

May, 2016
2016 d.health Summit: The Changing Insurance Landscape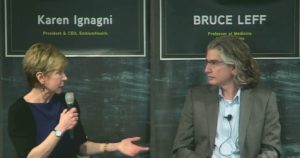 On May 4th, SPG's Jen Hajj moderated a fireside chat on "The Changing Insurance Landscape" featuring Karen Ignagni, President and CEO of EmblemHealth, and Dr. Bruce Leff, Professor of Medicine at the Johns Hopkins University School of Medicine. Key topics included the shift towards value-based payments, the realignment of payers and providers, and the emerging role of consumers. This discussion was part of the 2016 d.health Summit. More than 200 attendees took part in this daylong event, which focused on improving the health of aging Americans. More information can be found here: http://www.dhealthsummit.org/  
March, 2016
The Coalition of Behavioral Health Care Agencies Annual Conference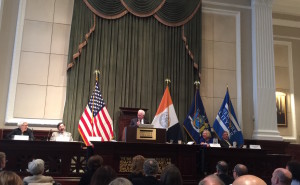 On March 3rd, SPG's Bruce Feig moderated The Coalition of Behavioral Health Care Agencies Annual Conference. The theme was sustainability in community behavioral health. Key topics included value-based payments, quality measures, and financial sustainability. Many panelists noted the need for infrastructure investments, information technology, and access to capital. Speakers also stressed the importance of communication across payors, providers, and government to address implementation issues regarding the transition of behavioral health benefits and populations to managed care. The agenda from the Conference can be found here.
October, 2015
PQC Annual Conference, "The Future of Medicaid"

Jordanna Davis moderated a panel discussion about "The Future of Medicaid" between Cindy Mann, Former Director of the Center for Medicaid and CHIP Services and Alan Weil, Editor in Chief of Health Affairs at the Annual Conference for the Partnership for Quality Care (PQC). PQC is a unique coalition of health care providers and health care workers dedicated to guaranteed, affordable, high-quality health care, and includes the Service Employees International Union (SEIU), Kaiser Permanente, and the Greater New York Hospital Association, to name a few.
March, 2015
New York eHealth Collaborative DSRIP Breakfast Panel, "DSRIP: Moving from Application to Implementation"
Now that DSRIP applications are complete, Performing Provider Systems (PPSs) are approaching the beginning of DSRIP Year 1. Focus now shifts to the execution phase. PPSs could begin receiving payments as soon as mid-April, and these first payments allow for vital investments in PPS infrastructure, building capacity for reaching important benchmarks throughout DSRIP Year 1 and beyond.
December, 2014
New York eHealth Collaborative 2014 Digital Health Conference, "NY State's DSRIP Program: A Key Moment for Healthcare Technology & Improving Care for All NYers"
New York State is in the process of undergoing an unprecedented transformation of its healthcare system through the implementation of the $6 billion Delivery System Reform Incentive Payment (DSRIP) program. Why? New York must not only reduce the vast cost of care, but it must also assure that individuals' care is optimized through better collaboration.
October, 2014
Geriatric Mental Health Alliance of New York State
The new Delivery System Reform Incentive Payment (DSRIP) program provides funding for new initiatives by providers to improve care, reduce costs, and improve outcomes.
June, 2012
12th Annual New York State Supportive Housing Conference, June 2012, "Medicaid: 2013 and Beyond"
Senior Consultant Bruce Feig discusses the future of supportive housing and Medicaid at the 12th Annual New York State Supportive Housing Conference. Mr. Feig's remarks were part of a larger workshop titled "Medicaid: 2013 and Beyond.